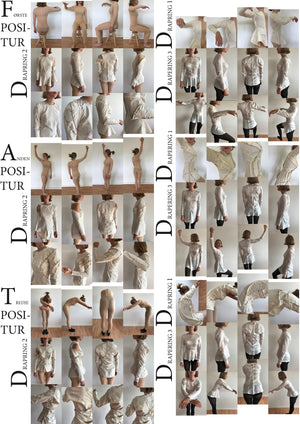 3 poses poster
Sale price Price €50.00 Regular price
The poster is printed in color on Seawhite of Brighton newsprint paper, handmade in the UK.
The size of the poster is A3 measuring 297 x 420 mm and comes without a frame.
Printed in Denmark – Ready to ship within the same week of purchase
#3 poses poster design is inspired by a motion study of poses. This artwork is a collage of process pictures portraying a live draping.
 The inspiration for the #3 poses series comes out of a form and motion study, in which we investigate the restriction and movement that lies within the construction of garments. The study is based on draping on a live model in selected positions. The purpose is to develop new & modern form principles for basic elements in garments aesthetic and functional tradition. #3 poses is a comment to the static form principles in the standardized garment system.
View #pose 1 here.
View #pose 2 here.
View #pose 3 here. 
For inquiry please contact bundgaardnielsencph@gmail.com