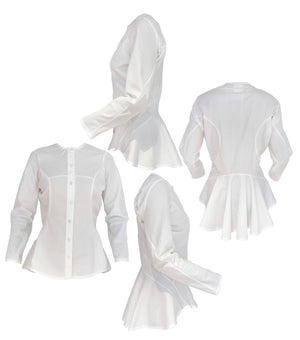 #pose 3 shirt
Sale price Price €335.00 Regular price
Composition: 100% Organic cotton
Handmade in Denmark from organic textile                      Ready to ship within 1 week after purchase                                FREE SHIPPING WITHIN THE EU
#pose 3 shirt is draped and constructed from a forward bending pose and has by design a composite expression. The shirt has long sleeves, a rounded neckline and is closed front side with a button placket. The shirt fits loosely around the upper body and narrows in at the waist where it meets a flowing voulant backdrop. All the seamlines are placed to convey an engineered shape for future expressive motion. Inside, all seams are carefully sewn with french seams and hems are covered with bias tapes in main fabric.
#pose 3 shirt is the third piece of a series of #3 poses.
#3 poses consists of #pose 1, #pose 2 & #pose 3.
The inspiration for the #3 poses series comes out of a form and motion study, in which we investigate the restriction and movement that lies within the construction of garments. The study is based on draping on a live model in selected positions. The purpose is to develop new & modern form principles for basic elements in garments aesthetic and functional tradition. #3 poses is a comment to the static form principles in the standardized garment system.
View 3 poses poster here
Care:
Love you garment through gentle wear & care
Use mild detergent - machine wash inside out on delicate cycle max 60*
Air dry in the shade - iron inside out on high heat & steam
Storage dry & dark on a padded hanger
For service, info or repair please contact bundgaardnielsencph@gmail.com
Find you size: SIZE GUIDE